ABOUT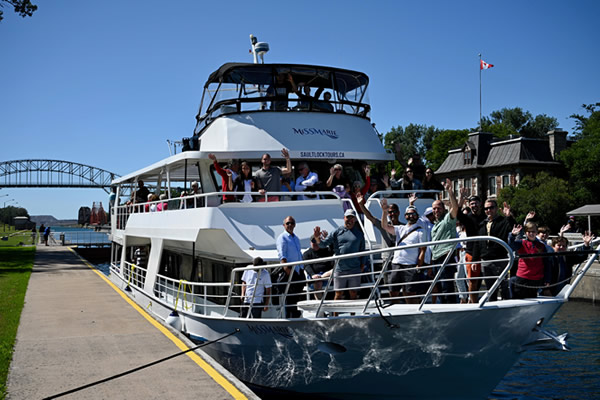 What Is Miss Marie Sault Lock Tours?
Sault Lock Tours presents the "Miss Marie" and a spectacular tour experience in Sault Ste. Marie, Ontario Canada.
The tour is approximately two hours long and will take you through both the Canadian and American Locks. Passports are not required for the tour. The "Miss Marie" carries 100 passengers. Please book soon, seats fill fast!
Please arrive on the dock at 65 Foster Drive, Sault Ste. Marie, Ontario, Canada at least 30 minutes prior to your scheduled tour. The Miss Marie departs the dock promptly at the scheduled tour time.
This is a great experience for families!
Tickets are $44 for adults, $31 for seniors (60+), $12 for children 6-12 years old and free for children 5 and under when accompanied by an adult. Check out our private charter option for more information on booking a private cruise.
Frequently asked questions
Charter once purchased are non-refundable. However, if you decide at least 10 days prior to your cruise that you would like to change dates, we may certainly do that for you. There will be a surcharge of $100.00. If you are unable to make your cruise you may give your tickets to another person.
How many people on board
The vessel holds 100 passengers and 5 crew members
Is the Miss Marie wheelchair accessible?
No. The Miss Marie vessel is not wheelchair accessible.
What if the weather forecast calls for rain?
We cruise rain or shine. If we were to cancel a cruise for any reason, we would be in touch and let you know. The charter can be refunded or rescheduled
Is there reserved seating?
No. However, from time to time, there will be reserved seating. This will be indicated by the lead organizer of the charter.
Is there food?
Yes, we work with several local catering companies and prearranged choices can discussed with lead organizer of charter
How should we dress?
One should dress as one prefers; we suggest smart casual. While our ship is partially carpeted, with hardwood portions, we suggest ladies wear practical footwear (not high heels) Perhaps a sweater or jacket for cooler evening breezes would be beneficial.
Are children allowed?
Yes. Some boat companies do not allow children. We do. However, some cruises are not appropriate for children. Children's rates will be noted if allowed. Children under 5 years old are free when accompanied by an adult.
Are pets allowed?
No. While we love all animals, for safety reasons pets are not allowed on board.
May we make special requests?
If you are celebrating a Birthday, anniversary or any other special event, you may certainly call the office to inquire about pre-purchasing a cake, a bottle of wine, balloons, etc. We would be happy to assist!
Are we allowed to smoke on board?
There is no smoking on any open public cruises. This is in compliance with the Ontario Smoking bylaws, as pertaining to passenger vessels.
Are there any group discounts?
Yes, for group discounts please email [email protected]